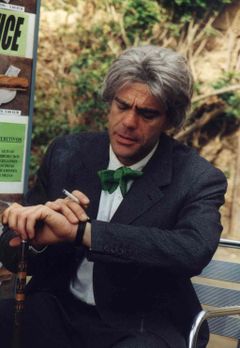 Masia "La Teuleria",
Bústia 908,
Ctra. de Roda s/n,
Vic 08500,
Barcelona.
tel: +34 930 076 721

movil:+34 652 453 508


tobyharper@me.com

Nacido el 14 de Mayo de 1.966 en Pembury - Reino Unido -
Títulos / Estudios

Licenciado en Antropología por la Universidad de Durham, Inglaterra. Cursos de interpretación con Tapa Sudana del grupo de Peter Brook en Paris, Paul Holmes en Inglaterra y Peter Gaddish en Barcelona.


Idiomas

Inglés materna
castellano excelente
catalán excelente
Con un gión y tiempo: Frances y Aleman

Físico

190 cm de altura ojos castaños pelo castaño
Experiencia Profesional

Teatro

Three's Company Barcelona: primer grupo de teatro de educación de Barcelona - fundador, escritor , director y actor - '88-'92
Cara Calla Roseland Musical - narración
Canvi de Sentit Obra propia '95 – '96
Little Red Escapade Theatre Cº '98
Metamorphosis Escapade Theatre Cº Grec '99 y temporada 2000 en el Teatre Malic
L'Inspector Escapade Theatre Cº temporada 2002 al Teatre Nou Tantarantana en catalán
Nuts Coco Nuts Preparación de la obra de La Cubana, '05

Cine

 
An Angel At My Table

 Director:Jane Campion '90


Dobles

 Short film winner of the Premio FAD '96


Andorra

 Director: Lluis Maria Güell '99


Second Name

 Dir: Paco Plaza '01


Los Nombres de Alicia

 Dir: Pilar Rúiz, '03


Iris

 Dir.: Rosa Vergés '03


Los Managers

 Dir.: Fernando Guillén Cuervo '05


Perfume

 Dir.: Tom Tykwer '05


The Deal

 Dir.: Bryan Goeres '06

The Lost
 Dir.: Bryan Goeres '09
A Magic Tale Dir. Jordi Llompart '10  
Lucas Dir.: Juan Pedro Ortega '12
El Elegido Dir.: Antonio Chavarria '15
Amics Per Sempre: Dir: Román Parrado '17 
Televisión

A Flor de Pell Canal Nou '96
Have Your Cake BBC Director: Paul Seed '97
Agenda Cultural BTV - Presentador y redactor en inglés y castellano '98-'01
Hola Barcelona BTV – Presentador. Programa en catalán, en directo '98-'00
Dalí Êntre Dieu TV3/TVE telefilm Dir: Sergi Schaaff '01
Plats Bruts TV3 '02 "Tinc Touchdown"
S-Club in Barcelona BBC dir: Jonathan Wilfrey '02
El Cor de la Ciutat "El Belga" en TV3 '03
El tránsfuga Antena 3/TV3 telefim Dir: Jesús Font, '03
S-Club BBC dir: Jonathan Wilfrey '04
De Moda TV3 Dir. Lluis Maria Güell '04
La Sopa Boba Antena 3 TV, Mr White '04
Con Dos Tacones TVE1, secretario '06
Hombres TV drama para TV5 Suecia '06
Play TV3 ... copresentador '08 al '10
Kubala, Moreno i Manchón ... TV3 Stewart '12
La Riera ... TV3  Mr.Thorn '16
Vídeo

Jack Stark Vídeo didáctico BCN '94
Home English Vídeo didáctico BCN '96
3 Minutes Please Vídeo didáctico Suecia '97
Océano: The Golden Mask Vídeo didáctico BCN '10


Voz / Locuciones

Doblaje, locución y narración en inglés, castellano y catalán de cuentos, anuncios, cursos de idiomas, videos comerciales, dibujos animados, narración de espectáculos, etc.
Este link te llevará a una pagina (Barcelona Voices) donde encontrarás muestras de mis trabajos.

Podéis oir mi voz aqui 
Presentador

Trabajos diversos de MC/presentador en catalán, castellano, francés y inglés para convenciones, congresos y fiestes, para el Ayuntamiento de Barcelona, Lufthansa, Checkpoint, Samsung, Amnestia Internacional y el Congreso Mundial del Petroleo entre muchos otros, tanto en el extranjero (Italia, Suecia, Canada, Austria, Alemania, Francia …) como en España en sitios tan diversos como el Liceo de Barcelona, un "design hotel" en la costa Atlantic de Portugal o a Montmelo, formula 1. El trabajo realizado va desde el protocolo mas absoluto (con Juan Carlos I de España) a la comedia mas divertido con una manera de hacer marcadamente inglés, aunque sin acento.